February 2021 Newsletter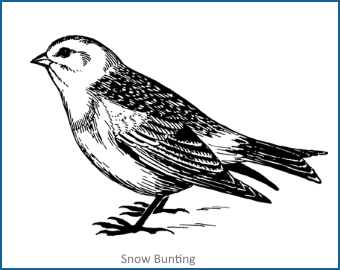 Species Spotlight - Snow Bunting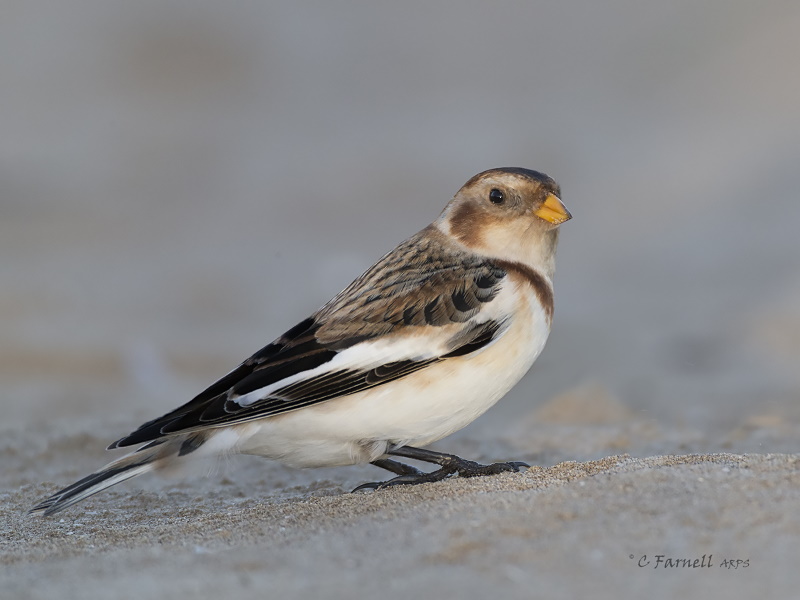 Snow Bunting at Leasowe Bay, November 2017 © Charles Farnell

The arrival of eight Snow Buntings along north Wirral on December 27th 2020 caused some excitement as this was the largest flock seen here since nine on November 3rd 2003, and those ones had only stayed one day. Four arrived at Little Eye on the 26th and when four were then spotted on the embankment around Leasowe Lighthouse on the morning of the 27th it was assumed they were the same birds - until an email drops into my inbox in the afternoon to say the Little Eye birds were still there! There were still some who thought we were seeing one highly mobile flock of four but by the 28th we had all eight at Leasowe to remove all doubts. They spent much time on Hoylake Shore where the new proto sand dunes were very much to their liking.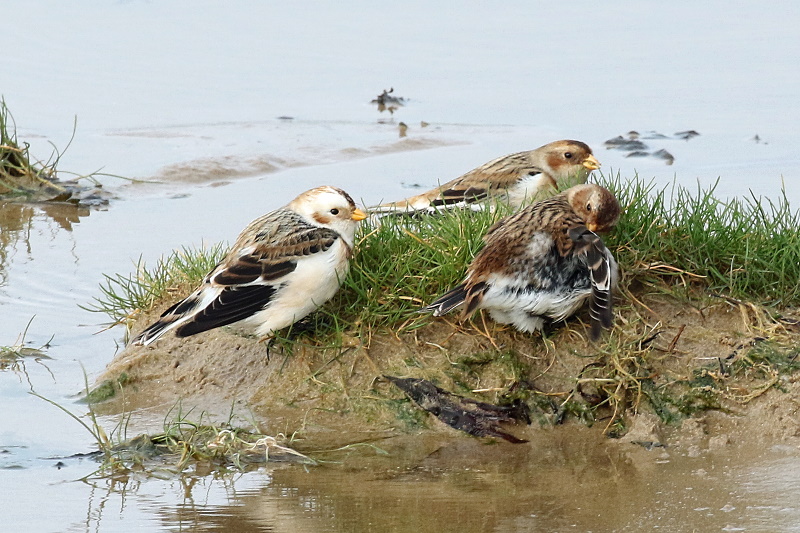 Three of the eight Snow Buntings at Hoylake, January 4th 2021 © Roy Lowry

Eight may not sound very many but most records these days are of just one to three birds and usually they don't stay more than a few days, but as I write this these ones have already been here for well over a month. To put this flock into context I have plotted the two bar charts below which show the annual max, the one for the English side of the estuary is complete and goes from when the first Cheshire Bird Report was published in 1964 to the present day. The bar chart for the Welsh side of the estuary is unfortunately incomplete for various reasons, but I have included all the data for years I do have records for.



Note the trend line (dotted line) in the left hand chart which is a three year running average, intriguingly it suggests a cycle with peaks every four to six years. No idea what would cause such a cycle or if it's statistically valid, but fascinating nevertheless.

One thing we can say is that we used to get a lot more Snow Buntings than we get now. Going back prior to 1964 Coward and Hedley Bell give the impression that before the mid-20th century numbers were not that much higher than they are now but there was then a significant increase in the 1950s. 30, at West Kirby in October 1953, were 'many more than previously reported'. But it was the winter of 1959-60 which was exceptional with a flock of 98 on the west side of Wirral and around Hilbre in December, there then followed a large influx in January when a remarkable 450 were counted - what a sight that must have been! Snow Bunting flocks are usually of around a max of 30 birds, with flocks up to 100 much more unusual but mega flocks of several 100 are very rare and this might well have been the largest flock ever recorded in the Liverpool Bay area. In the 1960s Leasowe shore consisted of sand dunes running down to the beach and any sea defence was rudimentary. The Snow Buntings found the area very attractive and reached a peak of 70 in December 1967. Flocks of over 30 were still present there in the early 1970s but then in 1973 the Bird Report compiler bitterly writes ".... three at Leasowe Dunes on December 6. The latter locality, where this species has wintered for a number of years, is being 'developed' and 'tidied up' so that its attraction is rapidly being lost...". NONE were seen there in 1974 although by the early 1980s some had returned with 12 in 1980 and 13 in 1981. But it must have been shortly after this that the embankment was built along that stretch and there were no further records from there for several years.

Numbers increased again in the 1990s and all the largest counts for that decade came from Hilbre with a very respectable maximum of 35 on December 20th 1997. Over the years Snow Buntings have been regular at Hoylake, Red Rocks and West Kirby up to the present day, and, although not annual, Snow Buntings are recorded at Heswall every two or three years, six were seen there in 1997 with ones and twos since.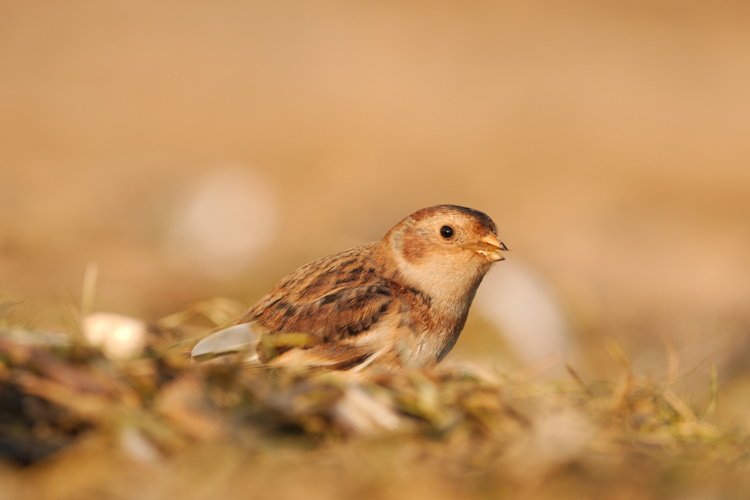 Snow Bunting at Point of Ayr, December 2019 © Andrew Wallbank

On the Welsh side of the estuary the extensive beach and sand dunes which run from the RSPB reserve at Point of Ayr to the Little Tern Colony site at Gronant is the best place to see Snow Buntings in Wales. Writing in 1994 Lovegrove said flocks of up to 30 were regular there and that was certainly the case in the 1980s as shown in the bar chart. Numbers have been much lower this century although I'm sure this extensive area is under-recorded in winter with birds ranging over a wide area. Snow Buntings do turn up along the Welsh coast in the Dee Estuary itself and there have been several records from Flint and Connah's Quay over the years, and even one at Shotwick Boating Lake on the very early date of September 20th in 2008.
The reason for the decrease in numbers of Snow Buntings this century is not clear, there has been no indication of any significant drop in numbers of the population as a whole. It may well be a combination of factors including tidier and busier beaches, but the main impact is most likely global warming with birds staying nearer their breeding grounds. Certainly many Snow Buntings breeding in Iceland have always been sedentary and it is not surprising more now stay there rather taking the long flight to the British Isles.
First Arrival Dates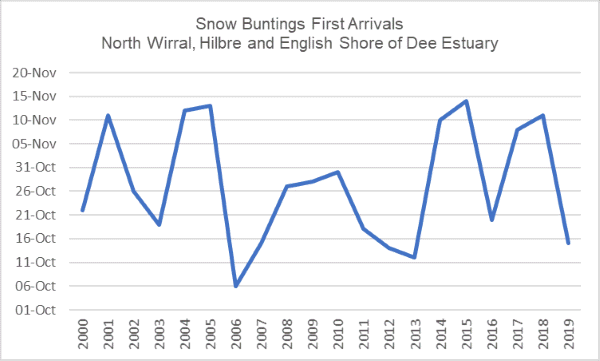 Most autumns the first arrival dates range between mid-October and mid-November. I would guess that if you did an analysis of average first arrival dates they may well be later this century than last, but whether that is due to global warming or just that with much smaller numbers involved the chances of the first one not arriving until November is greater remains unknown. Interestingly, the year before this graph, in 1999, there was a very early record of a male at Hilbre on September 23rd which I think is the earliest ever recorded in Cheshire and Wirral. I haven't done a similar graph for the spring as dates for the last departing birds are so varied and some years no birds at all have been recorded in the second half of winter, including 2016, 2018 and 2019.
Annual Distribution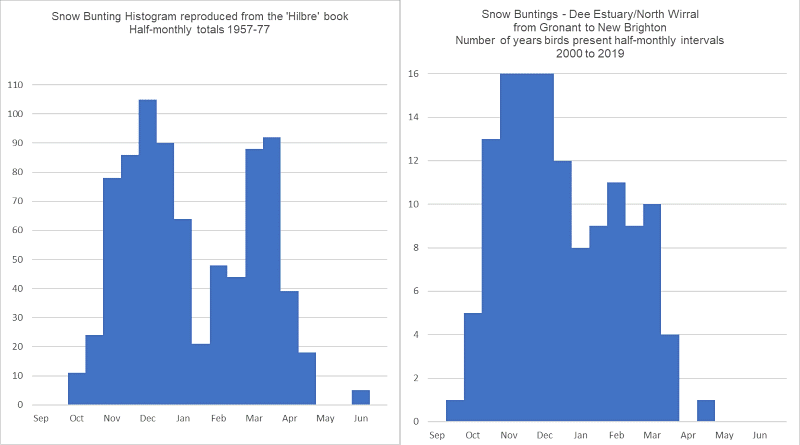 These two graphs above show the annual distribution over two time scales as shown. Craggs, in his Hilbre book says about the Snow Bunting histogram (reproduced in the left hand graph) - "There is some suggestion, from the histogram, of two passage peaks but the numbers involved may be too small for certainty". With numbers now even smaller and with the Bird Reports often vague about exactly how many birds were involved and on exactly what dates I've made a histogram simply showing when birds were present between 2000 and 2019 in half monthly intervals, and was somewhat surprised how similar the two histograms turned out.

There is a definite autumn passage which is well documented to take place across the country, but on the Dee Estuary it appears to occur about a month later than elsewhere, I wonder why that is? There then appears to be a mid-winter lull before a less pronounced spring passage. Note that the record in June in the Hilbre histogram is one male that was seen over five days in 1969. What it was doing there at that time of year is anybody's guess but lone males in June are not as rare as you might think and in 2020 singles were at Kent, East Sussex and Durham.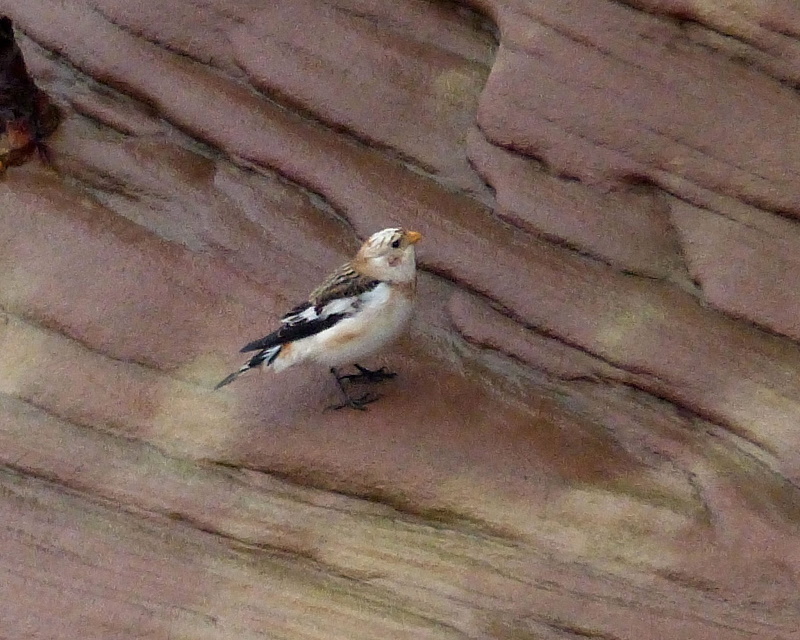 Snow Bunting on Hilbre, December 2016 © Hilbre Bird Observatory
Origins and sub-species

As the peak on the Dee Estuary and north Wirral occurs in late November and December this suggests it is birds which have already spent some time in this country and are flying south from Scotland and/or flying across from the east coast of England where the bulk of this country's Snow Buntings over-winter. The fact that many then move on suggests that they are dispersing around the coastline, and they can turn up just about anywhere on the coast of the British Isles, or perhaps they are moving on to the Netherlands and the north coast of France which ringing has shown where many birds passing through the UK end up.

The Snow Buntings which visit the UK consists of two sub-species Plectrophenax nivalis insulae and the nominate race, Plectrophenax nivalis nivalis. Birds of the insulae sub-species all breed in Iceland and probably around 80% of the UK's over-wintering Snow Buntings come from there and their presence has been confirmed by ringing. The nivalis sub-species breed in Scandinavia, Greenland and across northern North America. We know they come to the UK as both nivalis and insulae can, with experience, be separately identified in the field. Circumstantial evidence suggests we get nivalis from both Greenland and Scandinavia but nobody really knows, unfortunately, even with over 60 years of effort, ringing tells us virtually nothing with just one ring recovery from Norway and one from Greenland. This would be a nice colour ring project for somebody to take on in the future.

Allan Conlin is lucky enough to live just a few yards from Hoylake beach where the eight Snow Buntings spent most of January. He was able to spend a lot of time studying the flock trying to assign them a race and also sex and age them - a task which turned out to be quite a challenge. Below Allan goes into some details including providing three annotated photographs of some of the Hoylake flock:
'Although I was not able to race, sex and age them all with 100% certainty there appeared to be three males and five females in the flock, and six were nivalis and two, one male and one female, were insulae.
"Snow Buntings show a degree of variability within and between races and the annotated pictures are done within the boundaries of current knowledge which is ever advancing." Some birds are difficult " to do" whilst others are more straightforward. The important thing to take away is that nivalis has a frosty mantle contrasting with the scapulars and a white rump overlayed with ginger whilst insulae has a mantle colour similar to the scapulars thus no contrast. Also the rump of insulae has a dark ground colour overlayed with ginger and black feathers.
Sexing should be straightforward as the smaller coverts such as median and lesser are mainly white with very small black centres indicating a male whereas females have principally black median and lesser coverts with broad white fringes and tips. The black centered scapulars are broad and rounded on males whilst females are narrow and pointed (see annotated photos).
Snow Buntings are a stunning winter addition to our beaches and should be enjoyed for being Snow Buntings however an added interest is their area of origin that being Iceland / Scotland, Scandinavia or Greenland.'

Allan Conlin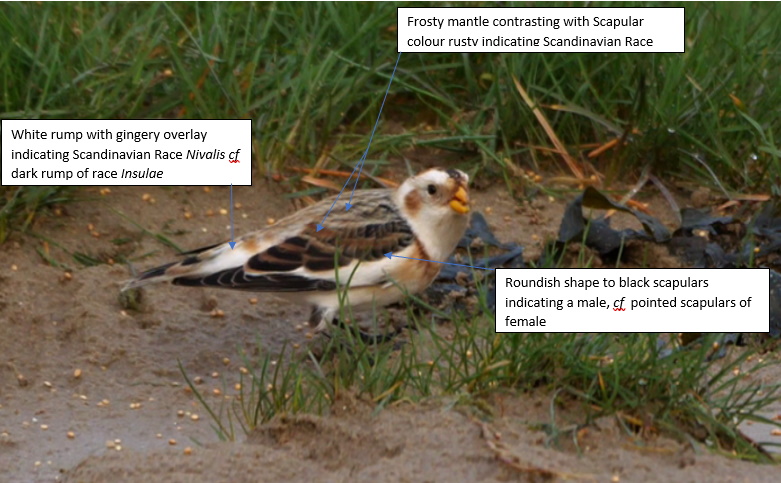 Male of Scandinavian race
nivalis
© Allan Conlin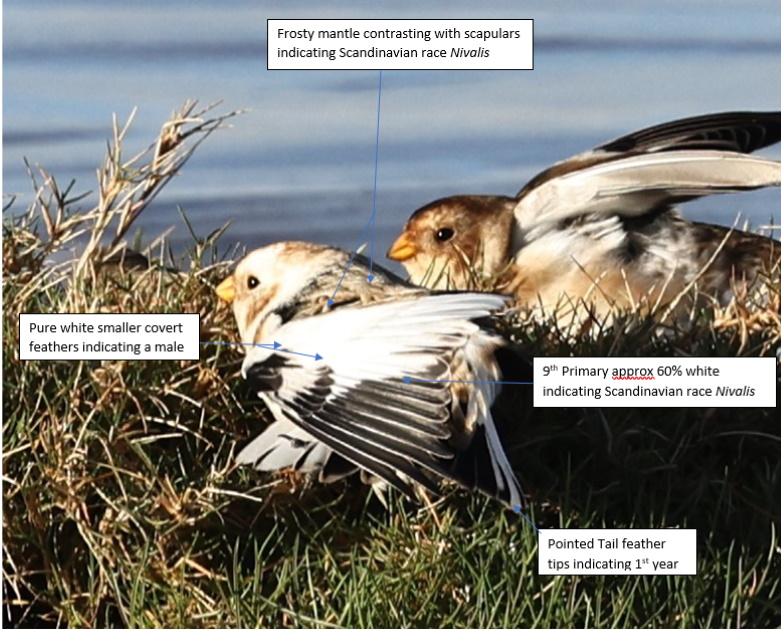 1st year male Scandinavian Snow Bunting (left) race
nivalis
© Allan Conlin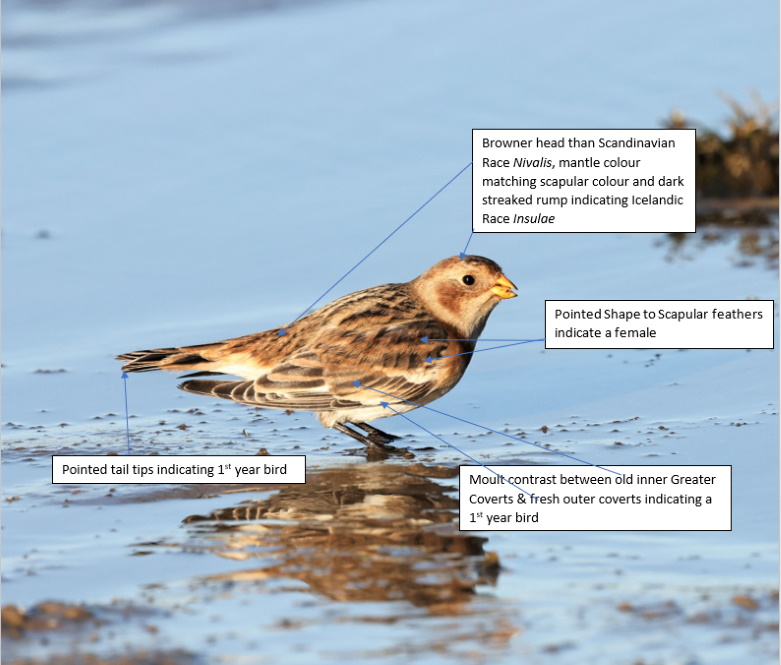 1st year female Snow Bunting Icelandic race
insulae
© Allan Conlin
References:
1. Cheshire Bird Reports and Cheshire and Wirral Bird Reports, 1964 to 2019.
2. Clwyd Bird Reports and North-east Wales Bird Reports, various between 1980 and 2019.

3. BirdGuides latest sightings, https://www.birdguides.com/sightings.

4. Lovegrove et.al., Birds in Wales, T & A D Poyser, 1994.

5. J. D. Craggs, Hilbre The Cheshire Island, Liverpool University Press, 1982.

6. K.W. Banks et.al., Origins, population structure and movements of Snow Buntings Plectrophenax nivalis wintering in Highland Region, Scotland, Bird Study (1991) 38.
7. BTO Migration Atlas, 2002.
8. Ringing and Nest Recording Report - Summary of all Recoveries for Snow Bunting, BTO (2020).
9. Records sent to and published in http://www.deeestuary.co.uk/.
10. Martin Garner, Winter (Challenge Series), Birding Frontiers, 2015.
11. R.D. Smith, Age determination, wing-feather colour and wing-length change in Snow Buntings Plectrophenax nivalis, Ringing & Migration Vol 13, 1992.
12. Ringers' DigiGuide, Snow Bunting Plectrophenax nivalis- sexing autumn.
https://ringersdigiguide.ottenby.se/species/plectrophenax-nivalis/sexing/
Richard Smith.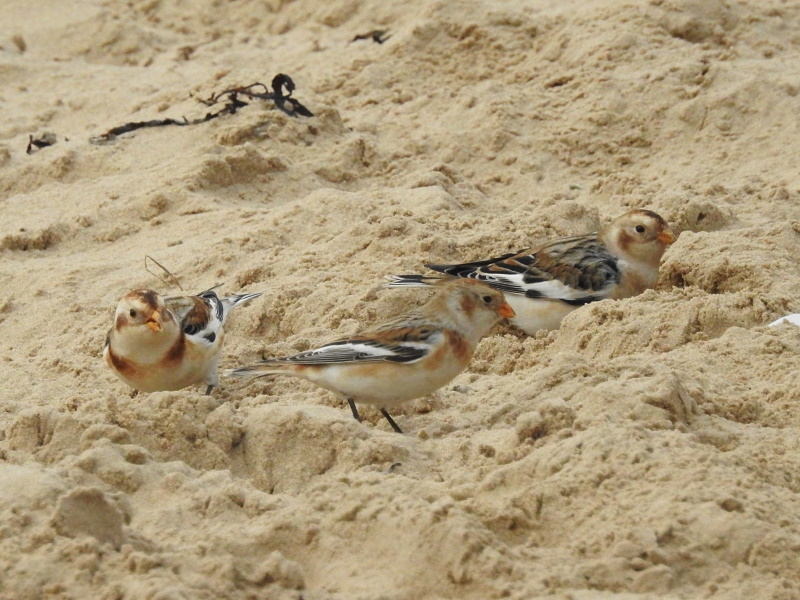 Snow Buntings on Hoylake beach, January 31st 2021 © Jackie Edwards
Colour Ring Report

Knots
A new Photographic Guide to Colour-ringed Red Knot has been published which should prove very useful to all colour ring enthusiasts - Click Here to download it (PDF File). Also for those wondering what the Dutch ringing codes for waders such as N8RYYN and Y4RNRR actually mean here is a guide to download - Click here (PDF file).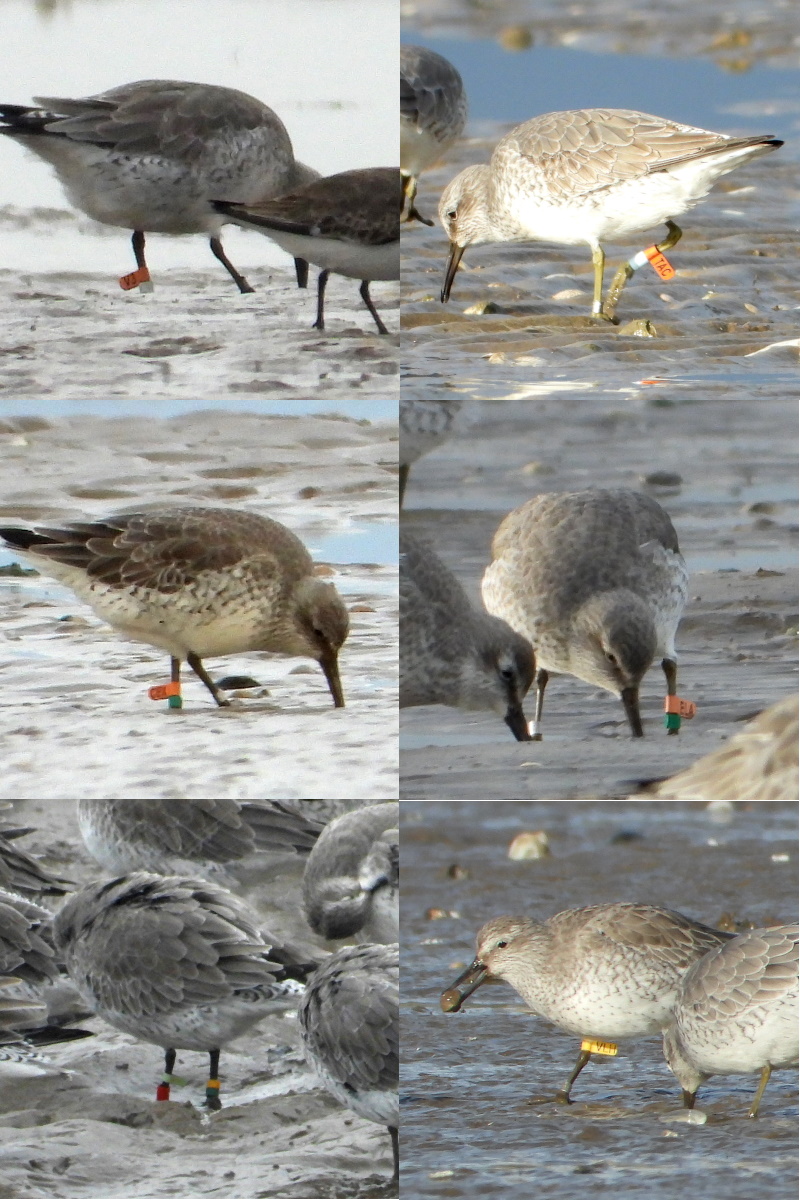 This winter has been particularly good for Knots and we've seen a lot with colour-rings including 208 records in January. After the birds leave us in April I shall do a summary of the whole autumn/winter but in the meantime here are six which have shown some interesting movements.
Orange flag V3 over pale blue (photo top left).
Ringed in September 2017 near the Alt Estuary. It was recorded at both Formby and Thurstaston in the winter of 2017/18 before starting to move north in April, seen at Leighton Moss in April, then south-west Iceland in May. It was back, at Southport, in August 2018 but then went missing for almost a year before turning up at Formby in late July 2019. It was early 2020 before it turned up again at Heysham and then Ainsdale. It returned to Ainsdale/Southport in August and October 2020 before being seen again at Heysham on Nov 15th, Thurstaston on Nov 27th, Meols on Dec 3rd and back at Heysham on Dec 16th.
Orange flag TAC over pale blue (photo top right).
Part of a catch which included several juveniles, two of which have subsequently turned up in France.
Ringed in September 2020 at Ynyslas, Cardigan Bay. Having sampled the Dee Estuary in November it decided it preferred life back in Wales where it was recorded three times on the Teifi Estuary in January 2021.
Orange flag CEX over green (photo middle left).
Ringed with a metal ring in Beaumaris, Anglesey, in Jan 2010 before being recaptured in March 2018 near the Alt Estuary when it was fitted with an orange flag.
After a couple of records in the Liverpool Bay area the following winter it was next spotted at Findhorn Bay, NE Scotland in mid-March. The winter of 2019/20 again saw it at Crosby and Thurstaston, This last winter it was recorded at Seaforth in October followed by several records at Thurstaston and Meols. In January 2021 it was spotted at Bangor harbour on the Menai Straits, just a short distance fro where it was ringed eleven years ago.

Orange flag ELA over green (photo middle right).
Ringed in March 2018 near the Alt Estuary.
This must have been an immature bird as it spent the following June in Morecambe Bay before hopping over to the Irish sea in July when it was seen at Dundalk Bay. Having spent the following winter (2018/19) in the Dee Estuary it again turned up at Dundalk Bay in November 2019 before flying back across to the Irish sea to the Dee for the rest of the winter. There have only been two sightings this last winter (2020/21) of this bird and both were in January, at Thurstaston and West Kirby.

L3RRYG (light green over red over red/yellow over green) (photo bottom left).
Ringed in August 2011 on the island of Griend in the Dutch Waddensea.
Initially just a very few records for this bird - at Spurn, Yorkshire, in August 2013, back at Griend in April 2014 before turning up at Southport in February 2016. Our first view of it was in January 2019 at Thurstaston. It was then spotted among the record number of Knot at Snettisham (140,000) in October 2020 before making it's way back to Thurstaston in November 2020.

Yellow flag VLH (photo bottom right).
Ringed in the far north-west corner of Iceland whilst on passage in May 2014. It has been spotted twice more at the ringing location and on almost identical dates in the third week in May - in 2015 and 2018. This bird makes it's way to the Dutch Waddensea to moult after breeding where it was seen in the autumn of 2016 and 2017. Our first record of it on the Dee Estuary was in February 2018, it was at both Thurstaston and Crosby the following winter (2019/20) and this last winter just the one record, at Thurstaston in November 2020.
Herring Gull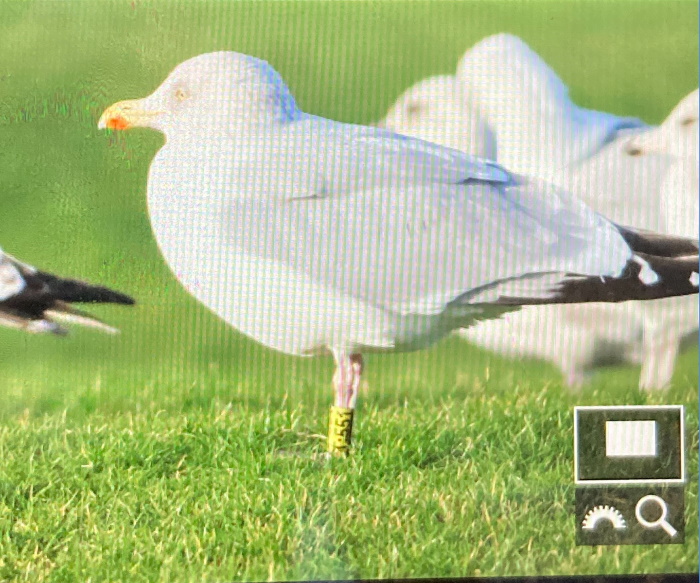 Herring Gull T:551 on New Brighton Dips, January 2021 © Sean O'Hara


T:551 - black on yellow ring, ringed as an adult male.
Ringed at Medicine Well, Montrose, Scotland on 24/5/2012.
Recorded:
Moore Nature Reserve, Cheshire, in January 2013.
Crosby Beach in November 2013.
Richmond Bank, Mersey estuary, in February 2014.
New Brighton in August 2015.
Hoylake in November 2015.
New Brighton in October 2106.
Montrose in May 2017.
New Brighton in February 2018, September 2018 and January 2021.


Black-headed Gull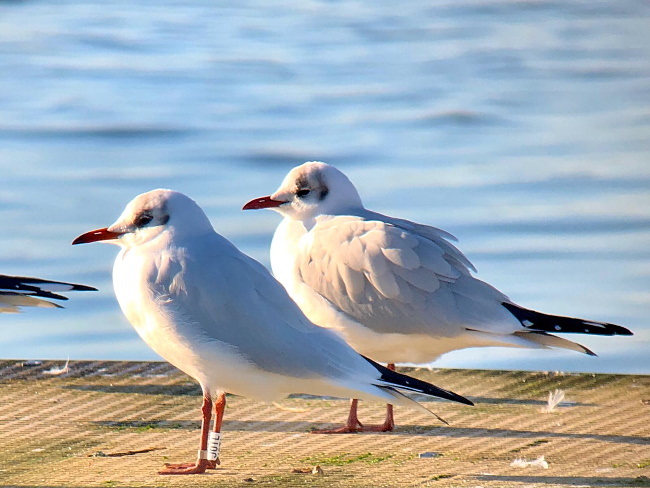 Black-headed Gull JOTL at West Kirby in January 2020 © Steve Williams

JOTL
black on white ring.
Ringed in Oslo on May 8th 2013.
This bird has been recorded every spring and summer back at Oslo since being ringed, including April and June 2020.
Recorded at West Kirby in January 2020 and feeding in a muddy field in Pensby on January 28th 2021.
Oystercatcher

T38 - black on white ring.
Ringed at Stonehaven, 15 miles south of Aberdeen, on 1/7/2015.
Recorded at Thurstaston on 24/1/2021, no other records.
Colour-rings were recorded by Richard Smith, Steve Hinde, Steve Williams, Richard Ashford and Sean O'Hara.


January Bird News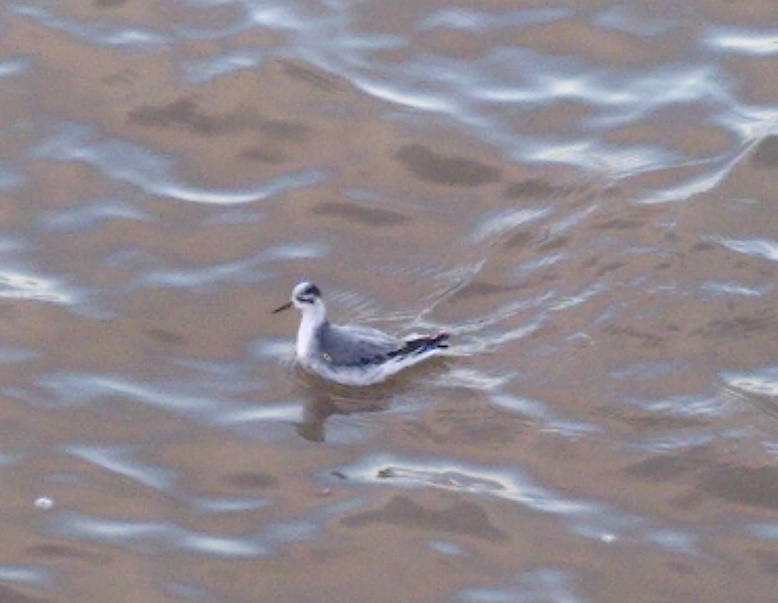 Grey Phalarope between Flint and Bagillt, January 3rd © Dhivan Jones


A Grey Phalarope on the Welsh shore near Flint was a nice surprise on the 3rd, over-wintering records are rare.

It was good to see a good number of duck on West Kirby Marine Lake with a maximum of four Goldeneye, 14 Red-breasted Merganser and 16 Goosander. It was 2015 since we had than many Red-breasted Mergansers and the Goosanders reached a record high in December 2020 with 17. We've also had good numbers of duck off shore with a reported 20,000 Common Scoters seen from a boat out in Liverpool Bay but a bit nearer inshore have been a probable Black Scoter as well as a couple of Velvet Scoters and a Long-tailed Duck.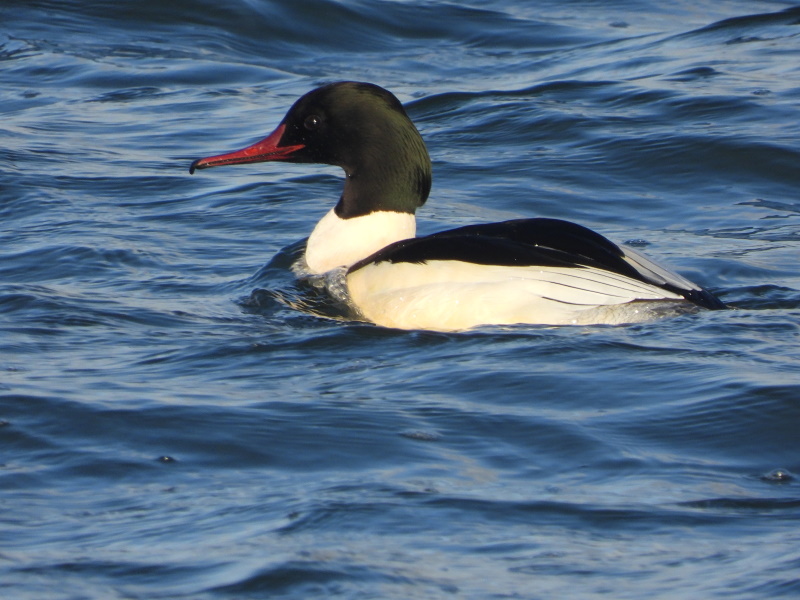 Goosander on West Kirby Marine Lake, January 22nd © Bill Wonderley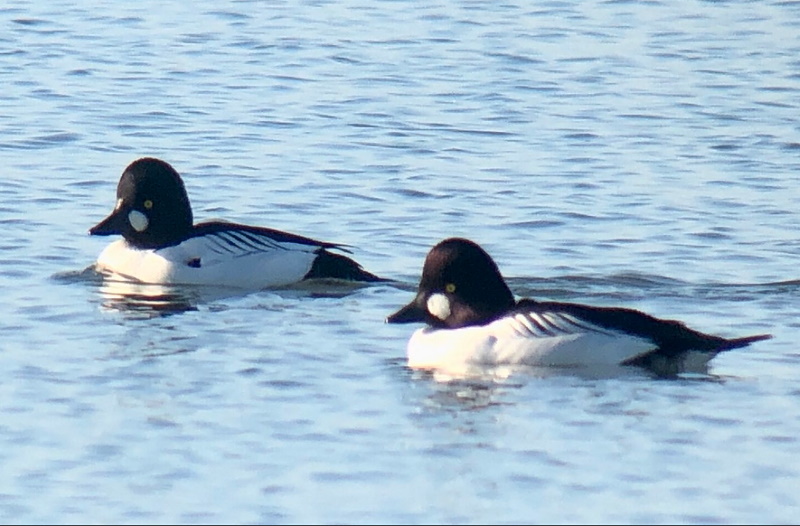 Goldeneyes on West Kirby Marine Lake, January 22nd © Steve Williams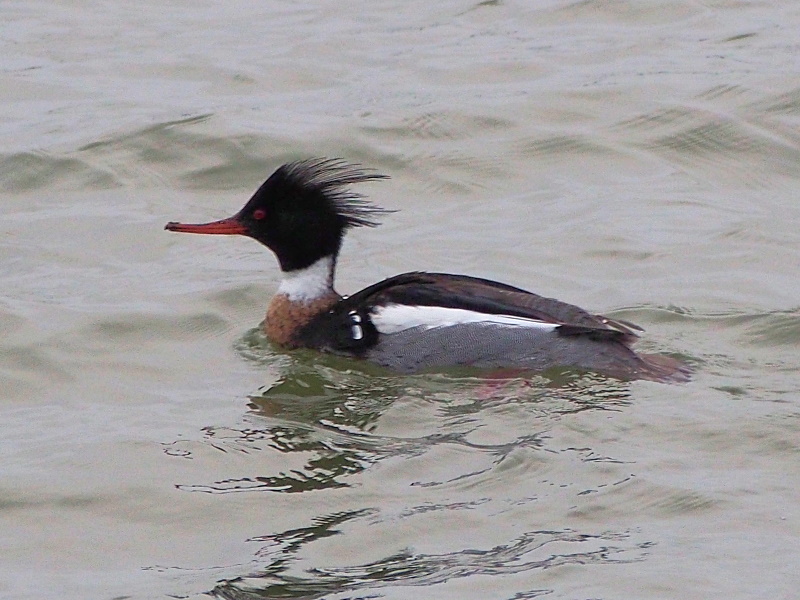 Red-breasted Merganser on West Kirby Marine Lake, January 31st © Neill Davies

Purple Sandpiper numbers on Hilbre having been dropping since the 1970s so it was good to see a roost of 18 on the island, the highest since 2013 (20). At least eight have been at New Brighton.

A couple of Cattle Egrets have been regular around the Puddington and Burton area and there must be a good chance they will stay to breed again. A Bittern has been seen regularly coming into roost at dusk at Neston Reed-bed, perhaps they will also breed on the Dee Estuary one day.

As detailed in the above article eight Snow Buntings have been present all month, they love the the proto-dunes now forming at Hoylake and lets hope the 'tidy brigade' don't have their way. As local resident and keen birder Jane Turner put it very nicely "This is the first winter in the last 20 I haven't had to deal with a sand-blow. Beautiful natural dunes are forming & the wildlife & passers-by are noticing. Only the ecologically or financially illiterate would try & reverse this natural formation of a rare habitat."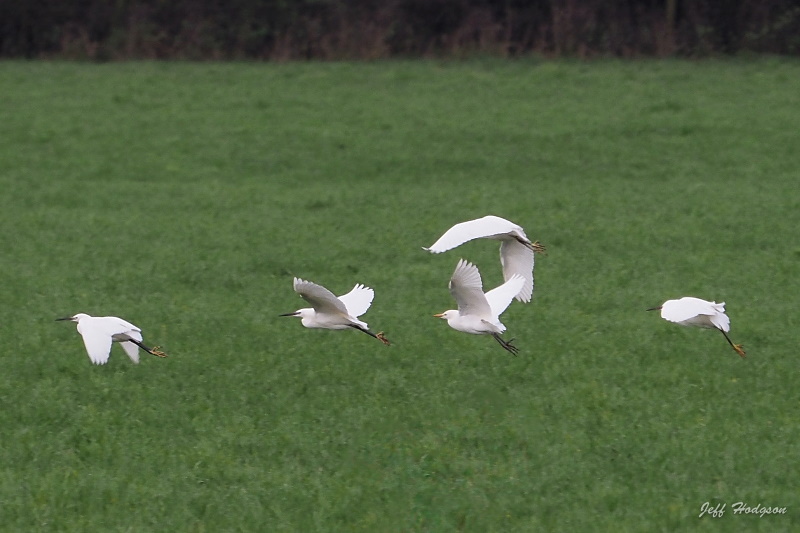 Cattle Egret (middle) with Little Egrets off Puddington Lane. January 3rd © Jeff Hodgson

Many thanks go to Steve Williams, Geoff Robinson, Tim Kinch, Matt Thomas, David Haigh, Steve Hinde, Alan Hitchmough, Derek Bates, Allan Conlin, Richard Whitby, David Thompson, David Small, Les Hall, Richard Beckett, John Hemmings, Roy Lowry, Bruce Atherton, Peter Sutton, Frank Burns, Dave Edwards, David Bradshaw, Mark Gibson, Paul Mason, Mark Peers, Sheila Ryde, Jeremy Bradshaw, Roy Wilson, Richard Smyth, Carole Killikelly, Bill Wonderley, Chris Revell, Nick Montieth, Ali Miller, Graham Parry, Linda Platt, Charles Farnell, Sean O'Hara, Paul Greenslade, Jeff Hodgson, Paul Ralston, Dhivan Jones, Sally Beevers, Neil Simpson, Brian Lingard, Cath Booton, Alan Oates, Steve Edwards, Jackie Edwards, Stephen Weeldon, Andy Coxon, Jon Ashton, Neilll Davies, Ann Tunnicliffe, Gill Jakeman, John Jakeman, Peter Broder, Simon Dowell, Richard de Knegt, Dan Bentley, Stephrn Wende, Faye Hine, Peter Haslem, Laura Millbrook, Ken Mullins, the Dee Estuary Wardens and the Hilbre Bird Observatory for their sightings during January. All sightings are gratefully received.

What to expect in February
There will be some very welcome first signs of the coming spring with the woods full of bird song on mild days, the first returning Avocets, gulls such as Mediterranean starting to show their breeding plumage and even the possibility of a very early spring migrant such as a Sand Martin. Stonechats are another species which come through here in good numbers in late winter with north Wirral a good spot to see them.
On the estuary we often get a late winter influx of Short-eared Owls which have been very thin on the ground so far this winter, the high tides at the end of the month may be a good time to see them. There will be plenty of waders around still and, again, a late winter influx of Dunlin can be expected with spectacular views of a thousand or more to be had at high tide on the rocks at West Kirby Marine Lake as well as the usual high tide roosts.

Out to sea Common Scoters will be starting to move north after spending the winter off southern Europe and Africa, if the weather is calm we could see thousands on the sea out in Liverpool Bay. Also out there are Little Gulls although we are only likely to see them if we get a storm to blow them in to the shore - like last February when we had storm Ciara and a 1.5m storm surge which flooded the marshes right up to Burton Point!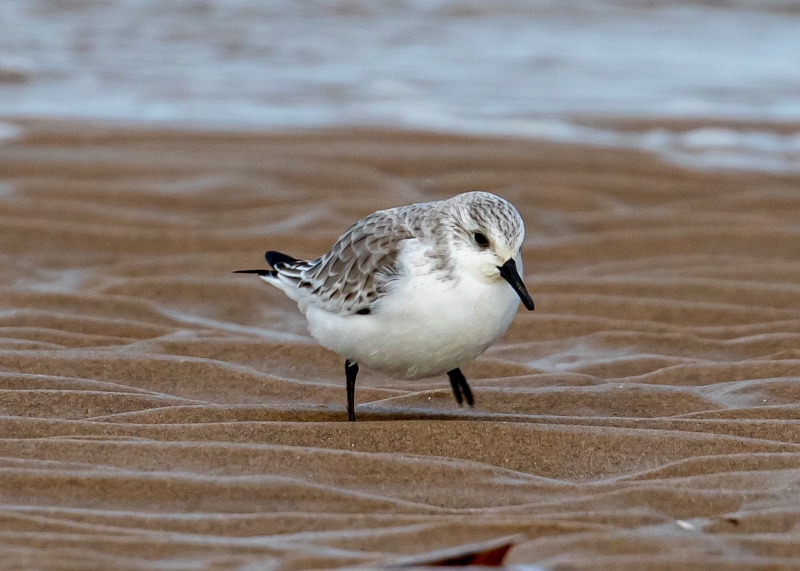 Sanderling on Hoylake Shore, January 4th © Peter Sutton

Forthcoming Events
February and March Highest Spring Tides (Liverpool)
Also see Tides page.
28th February, 11.52hrs (GMT), 9.7m.
1st March, 12.31hrs (GMT), 9.8m.
2nd March, 13.11hrs (GMT), 9.8m.
29th March, 12.27hrs (BST), 9.9m.
30th March, 13.07hrs (BST), 10.0m.
31st March, 13.48hrs (BST), 10.0m.
Forthcoming Events
Due to Covid 19 restrictions no birdwatching events are planned for this month.