Systematic list -
Mediterranean Gull to Great Black-backed Gull (below)
Kittiwake to Rock Pigeon.
Stock Pigeon to Sand Martin.
Swallow to Wren.
Hedge Accentor to Blackbird.
Fieldfare to Garden Warbler.
Blackcap to Coal Tit.
Blue Tit to Chaffinch.
Greenfinch to Reed Bunting.
Part 1, Red-throated Diver to Great Skua, was published in the June 2002 Newsletter.
Mediterranean Gull Larus melanocephalus
Rare visitor
1 adult on West Kirby shore July 21st. 1 second winter October 1st. 1 adult October 2nd.
[ Another species in that it is very rarely recorded by the wardens. Considering how regular it has become nationally, and in particular around the mouth of the Mersey, the scarcity of the species here seems inexplicable. A very good year for records. ]
Laughing Gull L. atricilla
National Rarity
1 first winter West Kirby shore October 2nd. ( CB, LG )
[Constant effort in covering the site finally paid off in the shape of this rare American vagrant. Although not classed as a bird to kill for by twitchers, as most got the long staying bird at Newcastle-upon-Tyne in the middle 1980's, it is still more than rare enough, with less than 100 records, to warrant national consideration by the British Birds Rarities Committee and is therefore awaiting confirmation. This is the fifth county record if accepted.]

Little Gull L. minutus
Rare passage
5 off Red Rocks April 7th. 23 feeding over the Marine Lake April 16th.
[ The spring passage of this, the worlds smallest gull, within the Irish Sea is well documented, but to have a flock over the Marine Lake is unique. The reasons for this being the sole occurrence of a sizeable number are unknown as the habitat appears to be ideal when you consider counts made at Crosby Marina during the same period. Perhaps it is because the Marine Lake lack the Chironomid larvae hatch that occurs at Crosby. ]
Sabine's Gull L. sabini
County Rarity
1 juvenile off Red Rocks September 16th. ( CB )
[ After a few rather tame years sea watchers had their prayers answered with plenty of Leach's Storm-Petrels, 3 Sooty Shearwaters and at least 4 Sabine's Gulls off the north Wirral coast. On the very first day of wardening this bird was watched from King's Gap as it struggled past Red Rocks and over to Hilbre in the face of lashing rain and a howling gale. Awaiting confirmation from CAWOS Rarities Committee.]

Black-headed Gull L. ridibundus
Common resident
Peak count :- 3,600 August 12th
[The large flock of roosting gulls and terns on West Kirby beach in the late summer and early autumn make this one of the best places, apart from Seaforth, to brush up on gull ageing and racial identification in the area but there are few, if any, birdwatchers present ! ]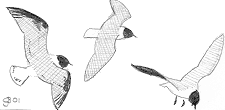 Mew Gull L. canus
Resident. More common in winter
Peak count 1st. winter period :- 349 March 12th
Peak count ( year ) :- 1003 August 29th.
Peak count 2nd. winter period :- 850 October 28th.
[ The reason behind giving three peak counts for this species is that, although it is a common winter visitor, the late summer influx is normally larger than the wintering numbers. ]

Lesser Black-backed Gull L. [ fuscus ] graellsii
Resident. More common on passage
Peak count :- 148 September 15th.
[ A rather poor year for this taxon as the late summer peak is normally over 200. Suggestions have been put forward that the taxa graellsii, the one that breeds in Britain, and fuscus should be split on the grounds of limited interbreeding, differences in voice and display plus the fact that fuscus ( a BBRC rarity ) is etho-ecologically more like a tern. ]

Yellow-legged Gull L. [a. / c. ] michahellis
Formerly a vagrant
2 ( ad. ) August 17th, 18th, 24th, October 8th. 1 ( 2nd. w. ) November 5th. All West Kirby shore.
[Like Little Egret, Yellow-legged Gull has gone from a rarity to its present status in just a few years. Birdwatchers were just getting to grips with Herring Gull, some with yellow legs, and Yellow-legged Gull, some without yellow legs, when, thundering over the horizon comes the revelation that there are Caspian Gull L. [ a.] cachinnans, and Yellow-legged Gull L. [ a. / c. ] michahellis to be found in Britain plus possible Steppe Gull L. [ c. / m. / a. ] barabensis and Heuglin's Gull L. [ f. / c. / m. / a. ] heuglini . We will probably get the larger Laridae sorted out in time for the next round of 'lumping' to start.]

Herring Gull L. argentatus
Resident
Peak count :- 1380 August 14th.
Only argenteus were noted this year, but other taxa were most probably present.
[ Although the taxonomic position of the 'Yellow-legged Gull' part of the larger gull complex has had a lot of attention over the last decade those taxa that are still regarded as being 'Herring Gull' have been rather short changed when it comes to identification criteria. ]

Great Black-backed Gull L. marinus
Resident. More common on passage
Peak count :- 107 September 18th.
[ The roost of Great Black-backed Gulls on Little Eye was almost non-existent during the first winter period and numbers present at the start of the second winter period were much higher than normal. This continued throughout the second winter period with never less than 41 birds being present. There are Nationally Important numbers found on the estuary. ]